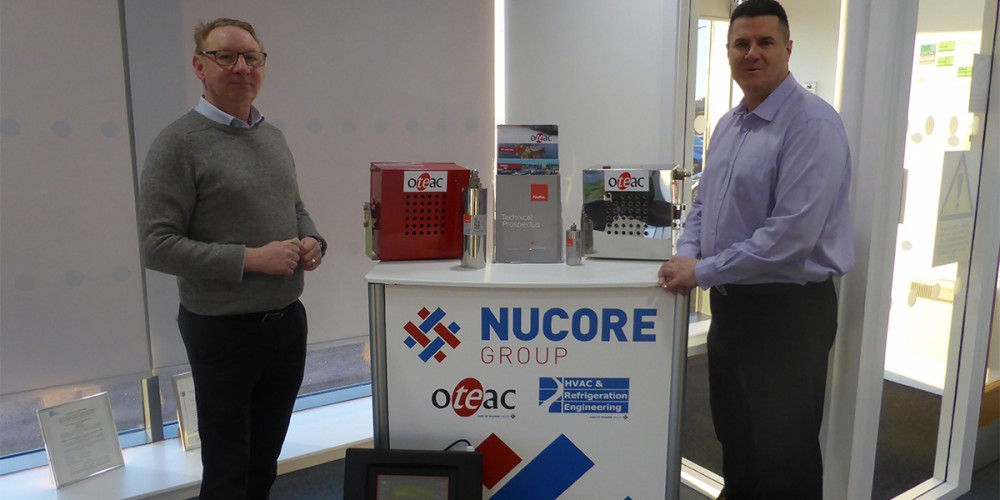 Nucore Group, previously known as Oteac at the time of the agreement, is delighted to announce a new distribution arrangement with Fire Pro UK Ltd to be the manufacturer-approved designer and installer of Fire Pro condensed aerosol systems.
Nucore Group is an international service company with over 30 years' experience offering fire and gas detection, suppression systems and related design and engineering services.
The company provides customers with an integrated approach to manage fire and gas risks to life and assets to ensure a safe working environment, and following a detailed review, assessment and in-depth design training on the FirePro condensed aerosol system, Nucore is delighted to now offer the system to their customers.
Nucore Services Director, Mark Cowieson, said: "This agreement with FirePro gives our customers another choice when it comes to fire suppression systems. The safety, environmental, space-saving, reduced maintenance and cost reduction benefits, aligned with our experienced design and installation team, make the FirePro range very appealing to customers wishing to upgrade or install new fire suppression systems."
Tony Hanley, FirePro UK Managing Director, commented: "We approached Nucore as a result of a strong recommendation from a global diesel generator end user that has used the FirePro product overseas. It's always good to know that we are supporting experienced fire trade professionals that have customers who are openly willing to recommend them. We're looking forward to supporting Nucore with the FirePro fire suppression product moving forward".
The condensed aerosol fire suppression technology, developed by FirePro, came into prominence because of the 1994 Montreal Protocol. The international treaty banned ozone-depleting substances, such as Halon and other halocarbons- and chlorofluorocarbon-based substances. FirePro is environmentally friendly and is suitable for use in industrial and marine applications and has a host of relevant approvals including UL, MED, LPCB, ABS, and others.